The early Protestants called the Unitas Fratrum ("United Brethren") first emigrated to Pennsylvania to escape persecution in their homeland of Moravia in today's Germany. Then they were offered a 98,000-acre tract in the northern piedmont of North Carolina by one of the Lord Proprietors (first English owners) of the Carolinas. The "Moravians," as they are better known, bought it and sent 11 single "brothers" to build an initial settlement in 1753. That became the farming village of Bethabara and was followed, as planned, by the larger central town of Salem starting in 1766. (Both are now in Winston-Salem.)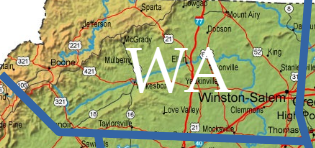 Named "Wachovia" in honor of the Count of Wachau in their homeland, the region became a thriving agricultural and commercial district. The Moravians were pacifists and officially neutral during the Revolution, and therefore suffered abuse from partisans on both sides.
About half of the locations on this tour were in the original Wachovia Tract, and the Moravian towns were critical to the survival of the settlements you will visit to the west. Some locations explore the violent struggle between Loyalist and Patriot militias, including a "Tory Oak" from which Loyalists were hung. We also see part of the march of the British army during the Race to the Dan, and beginning and ending actions of the Overmountain Campaign.