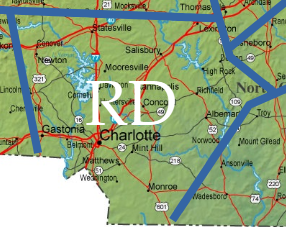 The "Race to the Dan" refers to the early 1781 campaign by the main British army in the southern states to crush the Continental Army under Maj. Gen. Nathanael Greene.[1] At the beginning, both the Continentals and the British had split their forces. The Patriot western wing under Brig. Gen. Daniel Morgan badly defeated its Redcoat counterpart at the Battle of Cowpens (S.C.), southwest of Charlotte. Morgan took 600–700 prisoners. Going against orders to protect Charleston, Lt. Gen. Lord Charles Cornwallis and the rest of the British army gave chase. At that time there were no bridges over major rivers, so the armies had to either cross at "fords" where the water was shallow or find enough boats to cross. At the Catawba River north of Charlotte, the Yadkin near Salisbury, and the Dan at today's South Boston, Va., Greene managed to cross in time to avoid a fight.
The word "race" is not accurate, however. Greene was eager to fight Cornwallis. He tried to get both parts of his army, more Patriot militia, and enough supplies in one place to do battle at least twice during the campaign. He stayed in Virginia to resupply for less than two weeks before crossing back into North Carolina to set up a decisive battle at Guilford Court House.
This tour covers the primary sites of Morgan's initial withdrawal, as well as those of Cornwallis' first invasion of the state for supplies late in 1780, and the civil war between Americans loyal to and rebelling against the king. (Travelers tracing the Race will want to continue to the Guilford Battle Tour for other locations.)
---
[1] Some historians only apply the term to the last segment of the campaign, from modern Greensboro onward.