By the time of the American Revolution, the Cherokees were the largest of several nations whose borders included parts of modern North Carolina. At one time their lands stretched from the South Carolina Piedmont across modern Kentucky, but when Europeans arrived they primarily lived around the western "point" of N.C. After the French & Indian War, they signed a treaty with Britain in 1763 establishing a border at the crest of the Appalachians. Repeated violations of that treaty by European-Americans caused tensions with both the Cherokees and King George III.
This page is built on extensive research, but was written by an "outsider" (non-Cherokee). Visit our "Cherokee Museum and Village" stop to learn more about the nation directly from the descendants of the warriors you meet on our Cherokee Campaigns Tour.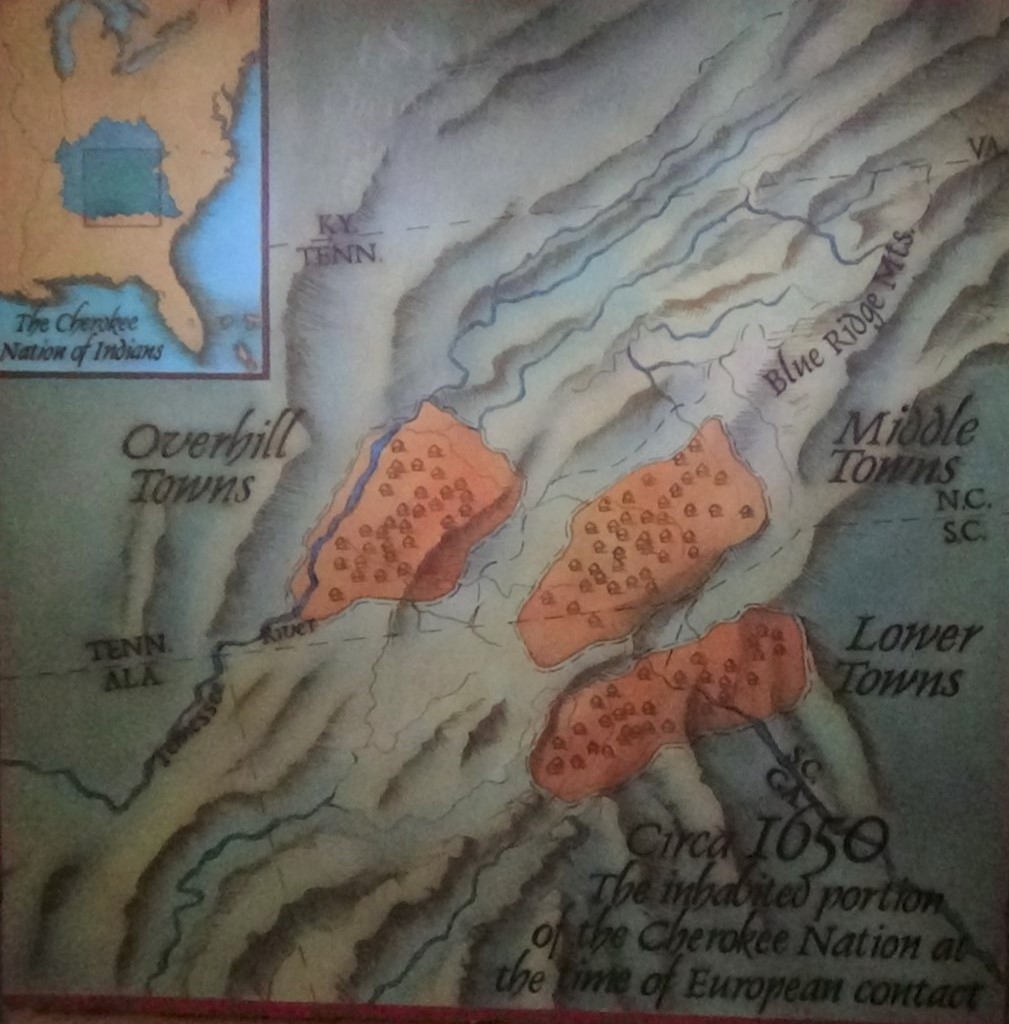 ---
[1] Reynolds 2015.
[2] Museum of the Cherokee Indian.
[3] Ibid.
[4] Ibid.
[5] Cucumber 2020.
[6] Museum.
[7] Ibid.
[8] Ibid.
[9] Oconaluftee Indian Village.
[10] Rozema 2007.
[11] Cucumber.
[12] Ibid.
[13] Reynolds.
[14] Museum; Wolfe 2020.
[a] Siler 1980.
[b] South Carolina Gazette, 6/28-7/5, 1760, quoted in: Smith, Betty Anderson, 'Distribution of Eighteenth-Century Cherokee Settlements', in The Cherokee Indian Nation: A Troubled History, ed. by Duane H. King (Knoxville: University of Tennessee Press, 1979).
[c] O'Donnell 1976.
[d] Quoted in Ehle 1988.
[e] Henry Stuart, an agent for his brother, Superintendent of Indian Affairs in the Southern Department John Stuart, said in a letter he and another agent "tried to convince the Cherokees that war with the white colonists would lead to their own destruction." He blamed young warriors and the representatives from northern nations for the start of the attacks (Hatch).
[f] Woodward 1963.
[g] Dean 2012.
[h] Saye, Rev. James, 'Memoirs of Major Joseph McJunkin', 1848 <http://www.carolinamilitia.com/wp-content/uploads/2014/03/Memoirs-of-Major-Joseph-McJunkin.pdf>. All modern sources found to make this claim cite only McJunkin. A search of a large database of veteran's pension applications found no mention of the word "passover."
[i] East 2014.
[j] Ehle 1988.
[k] Dean 2012.
[l] Ehle.
[m] The Treaty of Long Island of the Holston.