As explained on the Cherokee Campaigns Tour, in 1776 the two Carolinas and Virginia sent armies against the Cherokees in response to that nation's raids on European-Americans living west of a treaty line. The North Carolina army of Gen. Griffith Rutherford gathered at today's Old Fort east of Asheville, and traveled as far as modern Murphy, more than 250 miles round trip. The path they took now is called the "Rutherford Trace."[1]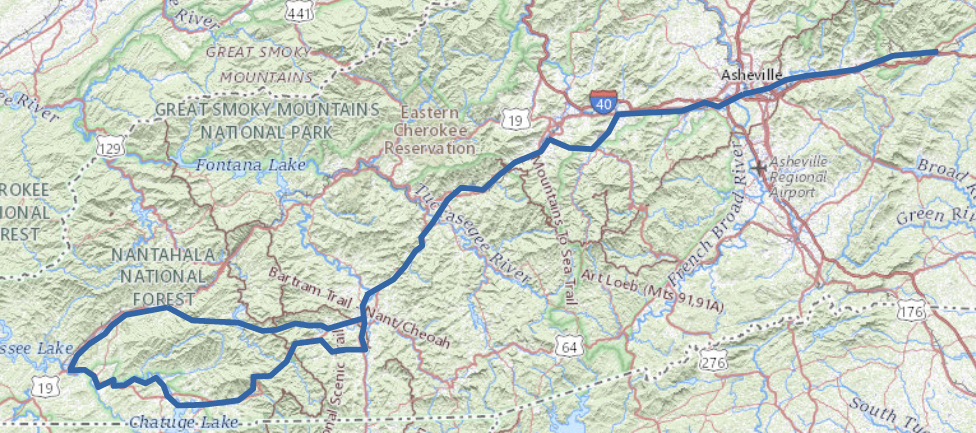 AmRevNC has reconstructed the most likely route using the four participant accounts that provide details, plus supporting evidence from modern Cherokee sources, old maps, and terrain maps. History buffs who want to follow in the army's boot-steps as closely as possible may do so using four alternative routes between stops on the Cherokee Tour, including a 100-mile loop from Franklin. Each is linked from the page for its starting location.
That said, the exact paths and campsites are unknown, complicated by sources differing on Cherokee settlement names, mileage estimates, and dates. Believe details with caution while enjoying your adventure in the beautiful North Carolina mountains.
---
[1] Some modern sources claim a trail by this name was blazed by the army. Though ordered by the Council of Safety running the state at the time to "if it is practicable, clear a road from the Enemies Country," the men had already left when it was written. The number of miles they covered on the return indicates they did not take the time!