Vital to Every Side
Unsung Heroes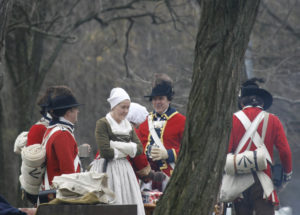 Women were not allowed to fight by the British or the rebels during the American Revolution, though a few did anyway, and several in North Carolina fought back when their homes were attacked. Native Americans were more tolerant of female warriors, and some Cherokee women participated in open battle. Many women, on all sides, showed extraordinary courage in the face of opposing forces. This included passing information to their own. For instance, Sallie Salter spied for Patriot militia, leading to victory at the Battle of Elizabethtown.
Both Loyalist and Patriot women accompanied armies, providing not only domestic services but caring for horses and livestock, repairing uniforms and equipment, and nursing wounded soldiers. (See the "Camp Followers" tab on our Army Camps page.) Neutral Moravian women withstood abuses from both sides with dignity, while feeding and nursing all who needed it. Quaker women took care of hundreds of wounded soldiers from both sides after the Battle of Guilford Court House.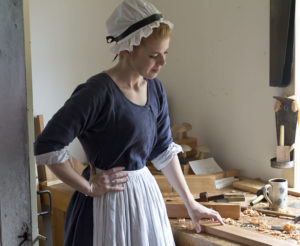 Often overlooked is that women played vital roles in sustaining the war effort. When Patriot and Loyalist men were serving in the military, their wives ran the family businesses. These included not only farms, but grain mills, sawmills, shops, taverns, and import-export firms. The majority of farmers could not afford slaves, so during growing season wives and older daughters helped with all aspects of raising, harvesting, and selling crops. In winter, women helped repair farm equipment. Year round they cared for livestock. Many of these women provided the food armies marched on and clothing they wore, along with other supplies. Grace McDowell helped her husband make gunpowder.
Jennie "Bahn" McNeill, who did not take sides in the war, ran cattle drives on her own. Single women and widows were allowed to own businesses, as both Martha Bell and Elizabeth Steele did, though if they married, those became the properties of their new husbands.
Enslaved women not only managed their own homes, to the degree slaves were allowed to, but were forced to do field work or care for slaveowners' homes and children, too. Their stolen labor was critical to providing supplies and services to the Patriot cause, and many who escaped to British-held territory provided the same vital support to Redcoat forces. Like their European-American counterparts, Cherokee women provided domestic and farming services, and helped rebuild or relocate entire towns destroyed by Patriot campaigns.
This website includes many women's stories, when a related location is known and can be visited. Unfortunately, thousands more are lost, in part because men wrote the early histories. Yet the contributions of women were critical to every side seeking freedom during the Revolutionary War: Patriots, Loyalists, neutrals, Cherokees, and the enslaved.
More Information
Ashe, Samuel A. (Samuel A'Court), History of North Carolina (Greensboro, NC: C.L. Van Noppen, 1908) <http://archive.org/details/historyofnorthca01ashe> [accessed 28 May 2021]
Barefoot, Daniel, Touring North Carolina's Revolutionary War Sites (Winston-Salem, NC: John F. Blair, Publisher, 1998)
Blumenthal, Walter Hart, Women Camp Followers of the American Revolution (Philadelphia, Pa.: George S. McManus Company, 1952)
Caruthers, E. W., Revolutionary Incidents and Sketches of Character, Chiefly in the 'Old North State' (Philadelphia, Hayes & Zell, 1854) <http://archive.org/details/revolutionaryinc00caru> [accessed 17 April 2020]
Caruthers, Eli Washington, Interesting Revolutionary Incidents and Sketches of Character, Chiefly in the 'Old North State.' (Philadelphia : Hayes & Zell, 1856) <http://archive.org/details/interestingrevol00incaru> [accessed 23 April 2020]
Conner, R. D. W., North Carolina: Rebuilding an Ancient Commonwealth, 1584-1925 (New York, NY: The American Historical Society, Inc., 1929)
Dunkerly, Robert, Women of the Revolution: Bravery and Sacrifice on the Southern Battlefields (Charleston, S.C.: The History Press, 2007) <https://www.hoopladigital.com/title/12305023> [accessed 1 April 2022]
MacLeod, Mrs. John Blount and others, Seventy-Five Years of Service: History of the National Society Daughters of American Revolution of North Carolina (New Bern, NC: Owen G. Dunn Co., 1975)
Moore, John W. (John Wheeler), History of North Carolina: From the Earliest Discoveries to the Present Time (Raleigh, N.C.: Alfred Williams & Co., Publishers, 1880) <http://archive.org/details/historyofnorthca01moor> [accessed 9 July 2021]
Mozingo, Kimberly, Amid Hostilities and Destruction: North Carolina Women and Their Impact on the American Revolution (Greensboro, NC: UNC-Greensboro, 2012), p. 45
Powell, William, North Carolina: A History (Chapel Hill: University of North Carolina Press, 1988)
The North Carolina Booklet (Raleigh, N.C.: E.M. Uzzell & Co., Printers and Binders, 1904)
Williamson, Hugh, The History of North Carolina (Philadelphia : Thomas Dobson, 1812), ii <http://archive.org/details/historyofnorthca02will> [accessed 28 June 2021]