Defender of Cherokee Lands and Traditions
Biography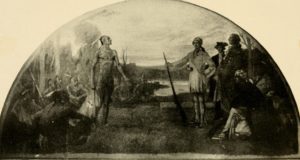 The boy who became Tsiyu Gansi-ni or "Dragging Canoe" was born around 1732 to the wife of the most prominent Cherokee leader of the time, Attakullakulla. He survived smallpox[1] and grew up in Chota, scene of many key political events for the Cherokee nation, in what then was North Carolina. Now it is under Tellico Lake in Tennessee (west of Great Smoky Mountains National Park). He earned his name as a child by hiding a canoe to join a war party against his father's wishes. Attakullakulla discovered him and said moving it to the river by himself was the only way he could go with them. The youngster successfully dragged it over the sand.[2] Nothing more is known of him until the Revolution. By then he was war leader of the Overhill town of Mialoquo.[3] Given his age and status, it seems likely he fought in the French & Indian War against the British.
When the Transylvania Company offered to buy 20 million acres of Cherokee homeland in 1776, Attakullkulla argued for it, realizing there was little the nation could do to stop the European-Americans. But Dragging Canoe spoke against it, saying whites would not be satisfied until the Cherokees were wiped out. His father and some other leaders nonetheless signed the resulting Treaty of Sycamore Shoals. Dragging Canoe refused to honor it, and most younger warriors joined him, from 700–1,000 men. Starting in May, these and others launched attacks all along the colonial frontier. Dragging Canoe led the force that was defeated at the Battle of Long Island Flats (Tenn.), in which his thigh was badly injured. After the elders again voted for appeasement in October, Dragging Canoe and his followers instead moved southwest to Chickamauga Creek near today's Chattanooga, Tenn. He settled at Runningwater Town, near modern Haletown. That area became the base of the "Chickamauga Cherokees" for an 18-year campaign against white encroachment. He lost the Battle of Boyd's Creek near Knoxville in December 1780 due to betrayal by his cousin Nancy Ward. But in 1788, he defeated a militia force at Lookout Mountain. Dragging Canoe believed he was upholding traditional Cherokee values. During one raid when several white women were captured, he killed a warrior who tried to rape one of them. He said, "No warrior should behave that way."[4] He died in 1792, still fighting around age 60, and was buried at Runningwater Town. The town and his grave now lie under Nickajack Lake.
More Information
Bender, Albert, 'Dragging Canoe's War', HistoryNet, 2017 <https://www.historynet.com/dragging-canoes-war.htm> [accessed 25 September 2020]
Cucumber, Devin, Oconaluftee Indian Village, In-person interview, 8/27/2020
Dean, Nadia, A Demand of Blood: The Cherokee War of 1776 (Cherokee, N.C.: Valley River Press, 2012)
Museum of the Cherokee Indian, 'Exhibits' (Cherokee, N.C., 2020)
Reynolds, William R., The Cherokee Struggle to Maintain Identity in the 17th and 18th Centuries (Jefferson, North Carolina: McFarland & Company, Inc., Publishers, 2015)
Rozema, Vicki, Footsteps of the Cherokee: A Guide to the Eastern Homelands of the Cherokee Nation, Second (Winston-Salem, NC: John F. Blair, Publisher, 2007)
Wolfe, Dustin, Oconaluftee Indian Village, In-person interview, 8/27/2020
---
[1] Bender 2017.
[2] Museum 2020.
[3] Dean 2012.
[4] Cucumber 2020.