Patriots Punish Tory Thieves
Location
Other maps: Bing, Google, MapQuest.
Coordinates: 36.4016, -80.2997.
Type: Stop
Tour: Wachovia
County: Stokes

Partial
The trail to the Tory's Den has rough ground, sometimes steep with uneven steps, and thus is inaccessible for most people with mobility issues. However, an information board can be viewed from the parking lot above the cave's mouth, as can the house at our second stop.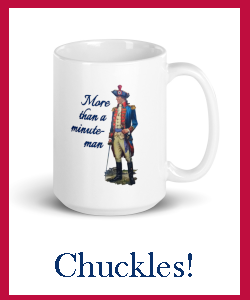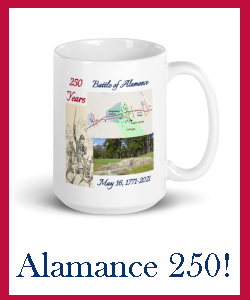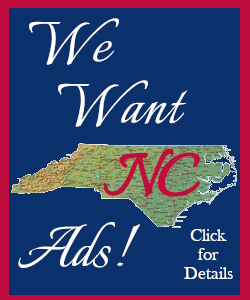 Description
Tory's Den
Evidence is limited for the Tory's Den stories on this page. The first seems based only on local traditions, repeated in two sources. The second comes from a preacher who collected eyewitness accounts in the mid-1800s, Rev. E.W. Caruthers, but does not list his specific sources in this case.[a] Believe with caution!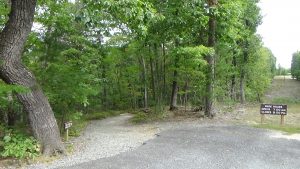 Walk to the Tory's Den Trail head at the far end of the parking lot—not the one across from the first lot entrance, though a sign there bears the name, too. Take the trail approximately a quarter-mile to its end at a small cave.
Much of the fighting in North Carolina during the American Revolution was a civil war between people backing independence (Patriots or "Whigs") and those supporting Great Britain (Loyalists or "Tories"). Two skirmishes of that "war within a war" may have occurred here.
Oral tradition holds that in 1778, Tories forced out of their homes by Whig attacks were living here. They raided the home of John ("Jack") Martin, visited later on this page, for supplies. Martin fought as a Patriot throughout much of the war. Along with supplies, the Tories kidnapped a woman. Sources differ on whether it was Martin's daughter or an employee's.
Martin and another man gathered neighbors to hunt for the Tories. One night they spotted a fire the Loyalists had set here. (Notice the black soot stains on the ceiling from fires burned inside.) Martin supposedly took a compass reading so they could find the spot in the daylight. Maybe the Tories thought they could safely risk a fire in the back of the cave, knowing it could only be seen at night if someone happened onto a direct line of sight.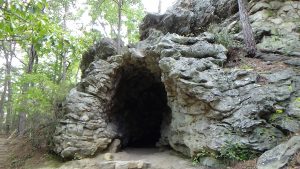 The rescuers managed to surround the cave without being noticed, and launched a surprise attack. They may have killed a few of the Loyalists, but captured most, and rescued the woman without any Whig casualties.[1]
The information board suggests 100 people were living here, which seems unlikely given its size. Perhaps some slept on the flatter ground above the cave and hid here during the day.
For people unable to visit: The cave, roughly 12 feet high at the entrance, is perhaps 20 feet deep. But it quickly narrows to 6 feet or less in width starting about two-thirds of the way back. The total floor area is around the size of a modest living room.
In February 1781, perhaps emboldened by the presence of a British army in the region, 15 Loyalists including a free African-American named Arnold supposedly went to the home of a Patriot farmer named Blackburne. They called him outside and stole what they liked from the house, including all of his clothes—except the shirt on his back! Led by a Capt. Stanly, they took refuge in this cave.[2]
Blackburne made his way to the home of the commander of the Surry County militia (part-time soldiers), Lt. Col. Joseph Winston. Winston invited him in, but Blackburne declined unless Winston loaned him a pair of pants! Winston gave him some buckskins and sent for help.
With the men who responded quickly, they went searching. That evening they came across a boy with a bread tray a mile from here, who claimed he had taken grain-meal to a neighbor. Winston did not believe him, and threatened to hang the child if he did not tell them where the Tories were. When the boy refused, Winston had some of his men tie a rope around his neck, throw it over a tree limb, and haul him up. After they let him down, the boy still refused to talk, so they did it again. Winston threatened to leave him up there the next time, and the child relented. He told them the Loyalists were here.
The Patriots continued to the cave. They attacked, and the Tories scattered. Martin was one of the pursuers. As he overtook a man named Horton, Horton turned and fired. Martin reared his horse to block the bullet and dropped to the ground. The horse was hit below an eye. Martin then shot Horton in the back as he ran, and Horton died three days later. The fate of the horse is unknown.
Some sources claim some of the men escaped, but Caruthers says all were caught and killed except Stanly, spared at the request of Blackburne for unexplained reasons. Stanly was a prisoner for the rest of the war.
Just inside the cave's mouth, the Whigs found "an immense quantity of beef and other bones," indicating the Tories had used this as a base for long time.[3]
The Rock House
To see Martin's intriguing "Rock House" a few miles away, return to your vehicle and:
After turning right out of the lot, keep making left turns to arrive at NC 66.
Turn right, drive 1.6 miles, and turn left on Taylor Road.
Drive 0.3 miles, and turn right on State Road 1175.
Drive 1.6 miles, and turn left on Flat Rock Road.
Note: The graves of Martin and his wife are just before the turn, on the right.
Take the next right, Col. Jack Martin Road.
Turn right into the pullout at the remains of the stone house.
Walk to the house if you wish.
There is some debate over when Jack Martin was born to James and Mary Martin.[4] He was raised about 6 miles to the north. If the birth year of 1756 is correct, he was only 14 when he picked out this site for his future home and began working on it around 1770. By 1776 when American independence was declared, it was two stories high.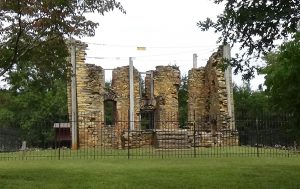 That year Martin joined the Surry County militia with Virginia troops in a campaign against Cherokee villages to the west. In that campaign he rode on horseback over mountain gaps, down trails, and across streams perhaps as far as modern Tellico Plains, Tenn., by way of Virginia—650 miles round-trip on modern roads! For the next few years he primarily fought Tories and Native Americans, rising to lieutenant. Then in the summer of 1780, a British corps occupied a base near modern Rutherfordton to suppress Patriot activity, and its commander threatened to cross the Appalachians. "Overmountain Men" from there and others in this region responded by marching on him, including Martin. He probably mustered with the county militia in modern Elkin and repeated the first part of his Cherokee campaign route toward today's Morganton. However, at some point he was wounded while scouting ahead, and he missed the decisive Battle of King's Mountain (S.C.).
He recovered to fight again when the British invaded N.C. a second time in early 1781. Martin was at the Battle of Clapp's Mill near modern Burlington, and then on the American first line at the climactic Battle of Guilford Court House in today's Greensboro. At some point in the war he was wounded a second time, and carried buckshot in his temple for the rest of his life.[5]
He married Nancy Shipp in 1784, prompting him to finish the house here. Martin raised it to three stories, plus a basement with a fireplace large enough "'to roast an ox.'"[6] As you can still see, the walls were two feet thick, reportedly covered with white stucco and visible for miles. The house may have been used as a militia muster point and fortified blockhouse during the war.
In later years, it was a social center for the area. While raising 10 children, the Martins ran a large plantation growing various crops and horses using an unknown number of enslaved people. Martin was also a magistrate and was elected to the House of Commons of the state General Assembly. Meanwhile he remained in the county militia nearly 20 years after the war, rising to colonel.
Martin died while fighting a forest fire with his wife, enslaved workers, and neighbors in 1822, around age 66. He reportedly lay down on a flat rock to rest while Nancy took over the fight, and when she returned, he was dead.[7] She lived another 19 years, and they are both buried in the family cemetery nearby.
If you want to visit the graveyard, you can walk down the open part of the slope, to the left facing away from the house, and back to the intersection of SR 1175. The graves are to the right.
More Information
Caruthers, Eli Washington, Interesting Revolutionary Incidents and Sketches of Character, Chiefly in the 'Old North State.' (Philadelphia : Hayes & Zell, 1856) <http://archive.org/details/interestingrevol00incaru> [accessed 23 April 2020]
'Colonel Jack Martin Rock House', Stokes County Historical Society <http://www.sc-hs.org/rock-house.php> [accessed 28 September 2020]
'Information Board' (Tory's Den Trailhead)
'John "Jack" Martin, Stokes County, North Carolina – Martin Ancestor Puzzle' <https://sites.google.com/site/johnjackmartinstokescountync/martin-ancestor-puzzle> [accessed 28 September 2020]
Lewis, J. D., 'Chestnut Mountain', The American Revolution in North Carolina –, 2010 <https://www.carolana.com/NC/Revolution/revolution_chestnut_mountain.html> [accessed 22 March 2020]
'Lieut. John "Jack" Martin Sr. (1756-1822)', Find a Grave Memorial <https://www.findagrave.com/memorial/18194385/john-martin> [accessed 28 September 2020]
'The Danbury Reporter. (Danbury, N.C.) 189?-Current, September 19, 1928, Page Two, Image 2', North Carolina Newspapers, 1928 <http://newspapers.digitalnc.org/lccn/sn91068291/1928-09-19/ed-1/seq-2/ocr/> [accessed 28 September 2020]
'Tory's Den Cave and Waterfall Trail', NC State Parks <https://www.ncparks.gov/hanging-rock-state-park/trail/torys-den-cave-and-waterfall-trail> [accessed 22 March 2020]
---
[a] Caruthers 1856.
[1] Information Board; The Danbury Reporter.
[2] Tory's Den Cave and Waterfall Trail.
[3] Lewis 2010; quotation, number killed, and Stanly's fate are from Caruthers.
[4] Not to Joseph Martin as reported in some sources, according to DNA testing (per "John 'Jack' Martin…").
[5] Stokes County Historical Society.
[6] Ibid.
[7] Danbury Reporter.
← Salem | Wachovia Tour | Surry Muster →