Eastern End of the Overmountain Trail
Location
Other maps: Bing, Google, MapQuest.
Coordinates: 36.2529, -80.8618.
Type: Stop
Tour: Wachovia
County: Surry

Full
Start at the top of Elkin Municipal Park, in the turnaround behind the state highway marker. Everything except the information panel on the other side of the lot is visible from your vehicle, and the grounds are wheelchair accessible.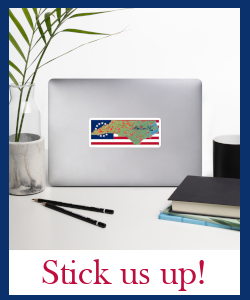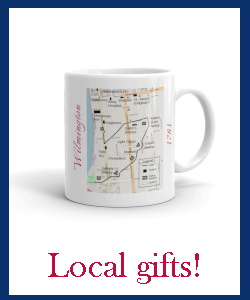 Description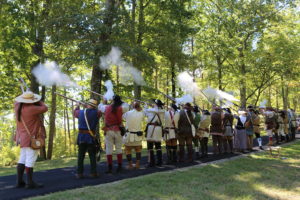 British Maj. Patrick Ferguson was raiding along the Appalachian foothills from a base at Gilbert Town (near modern Rutherfordton) in the Summer of 1780. He threatened to cross the mountains to attack Patriots on the frontier. Patriot leaders decided to strike first, and called for county defense units known as "militia" to join up at Quaker Meadows in today's Morganton. Not regular soldiers, these were draftees or volunteers wearing regular clothing, each man carrying his personal weapon and supplies for the march.
A company of 100 Patriots from what then was Surry County, which stretched from east beyond modern Winston-Salem to the west of here, gathered at this field on Wednesday, September 27. Led by Col. Joseph Winston, they started their horseback march toward Mulberry Fields (now Wilkesboro) to join up with the Wilkes County Militia. This is the easternmost point from which units came to participate in the campaign. Others traveled from as far north as Virginia and west from modern Tennessee, then still part of North Carolina.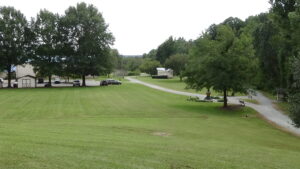 Eventually they fight in the victory over Ferguson at the Battle of King's Mountain (S.C.). The Surry men and other units brought at least 300 prisoners through here on Monday, October 23, on their way to Bethabara (now in Winston-Salem).
What to See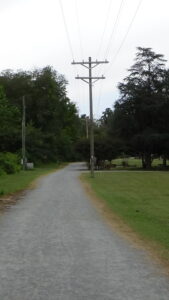 An information panel mostly repeats the information above, as few other details are known. However, you can follow these men on their first hoofbeats of a month-long saga. Go to the greenway trail visible downslope behind the information panel, next to a small Overmountain Victory Trail (OVM) marker. (Or you can drive to the community center on the left and park in the lot there.)
Take the trail on the right as far as you like to the south, away from the panel—it continues down their original route along Big Elk Creek toward the Yadkin River. Notice the OVM badges on the light poles. The trail crosses the creek at the Market Street bridge.[1]
If you are taking the Wachovia Tour, you will parallel their route along the Yadkin most of the way to modern Lenoir.