Home of a Revolutionary Diarist
Location
Other maps: Bing, Google, MapQuest.
Coordinates: 36.0170, -81.4978.
Type: Stop
Tour: Wachovia
County: Caldwell

Partial
You will arrive at the entrance to the Fort Defiance home, which is now a private historic site. The site is open limited days of the week, and is not visible from the front gate if closed. Call ahead and time your visit accordingly, if you can. If not, there is room at the entrance to the driveway to park and read this page.
The house, family cemetery, and possible Overmountain campsite can be seen from your vehicle when the site is open. But seeing the interior requires walking over uneven ground and at least a few stairs.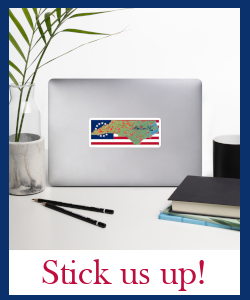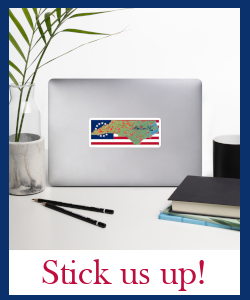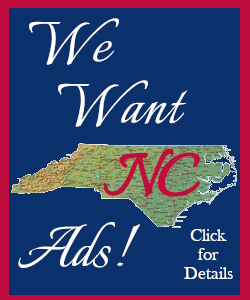 Description
William Lenoir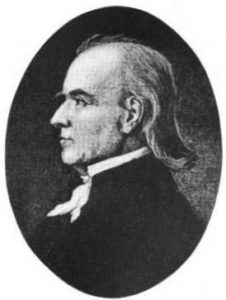 If you are inside the site, go to the tombstones visible across the driveway from the house and curl behind and around the trees to your left at that point. Walk between the two rows of graves on the other side of the trees (left side coming from the house). The fourth tombstone on the right, the first with a footstone, is Lenoir's (see the picture below).

Fort Defiance was the post-war home of William Lenoir. Virginia-born Lenoir moved with his family to a plantation outside Tarboro, in Eastern North Carolina, at age 8. His father died six years later, so William was mostly self-educated, teaching himself three other languages and learning business with a math textbook.[1] Lenoir taught for a few years before learning surveying, by apprenticing along Fishing Creek[2] near Tarboro. In 1775 he moved his wife and two enslaved women to Mulberry Fields, now Wilkesboro.
Lenoir became clerk of the county "Committee of Safety," essentially its new Patriot government. He first served in the Surry County part-time defense force ("militia") the next year, as a lieutenant on a campaign towards Wilmington, and then in another against the Cherokees to the west. Lenoir is valued by historians for the diary he kept of his experiences on the latter campaign,[3] which took him hundreds of miles on horseback.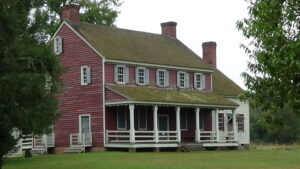 When Wilkes County was created in 1777, he was named justice of the peace, a position he held the rest of his life along with a number of other county roles. Lenoir saw little combat for the next few years, until the 1780 Overmountain Campaign. British Maj. Patrick Ferguson and his "Flying Corps" moved to Gilbert Town near today's Rutherfordton to suppress Patriot activity that fall. He also threatened to cross the mountains to burn Patriot homes, which drew far-flung militia units to march on him, including Wilkes'. Lenoir received minor wounds in the left arm and side at the Battle of King's Mountain (S.C.) that defeated and killed Ferguson. He reported eight bullet holes in his coat, but joked he was more pained by having his ponytail shot off![4]
Part of Lt. Col. Henry Lee's force that screened the Continental Army prior to the 1781 Battle of Guilford Court House, including at Pyle's Defeat, Lenoir was back home raising troops during that climactic battle in today's Greensboro.
He and his family moved to a house they had built where Buffalo Creek empties into the Yadkin River, less than a mile west of here, in December 1782. His wife Ann made the move while pregnant with their fifth child.[5] After the war he was elected to the state house and senate, and served in the state convention to ratify the U.S. Constitution. Lenoir also was the first president of the University of North Carolina Board of Trustees, and opened three schools in this area.[6] Meanwhile he rose to the rank of major general of the militia before retiring in his 60s.
The general had this home built in 1792. Unlike earlier frontier homes, the house is not called a "fort" because it was built to withstand an assault. Somewhere nearby, the first Fort Defiance was built around 1775[7] to protect area residents from Native American attacks. The fort's most likely location is now the site of the family cemetery.[8] Assuming it was like other forts built for that purpose, it probably had at least a small palisade of vertical logs and a fortified blockhouse.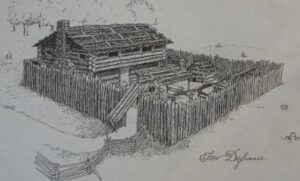 Lenoir became one of the state's largest landowners, including Grandfather Mountain.[9] At any given time he held up to 40 enslaved people captive.[10] He effectively retired in 1822, and died a widower at Fort Defiance two days shy of his 88th birthday, in 1839. Remarkably, Ann survived a broken hip from a fall down the cellar steps,[11] recovering enough to travel. She died five years later, seven before William, at age 83.[12]
Campsite for Two Campaigns

Face downhill, toward the river.
Then-Lt. Lenoir probably first passed this spot with his militia unit on the way to joining the Cherokee Campaign, on or the day before Wednesday, August 20, 1776.[13]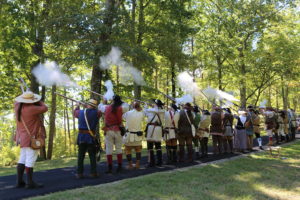 After Ferguson's threat five years later, the Wilkes and Surrey county militias converged at Mulberry Fields, where Lenoir was still living. They followed the Yadkin southwest toward today's Morganton to join what have become known as the "Overmountain Men" in attacking Ferguson. On the way, they most likely camped here by the crumbling fort on Thursday, September 28, 1780.[14] Totaling about 360 men, they would have spread over the current historic site grounds, taking advantage of this promontory for defense and two nearby streams for water. Not a regular army, these men in everyday clothes had no tents and carried their own supplies on their horses.
They pass back by on Wednesday, October 18th, Lenoir nursing his King's Mountain wounds, though they didn't camp here. With them are 300 or more prisoners from their victory, bound for Bethabara in modern Winston-Salem, plus some Virginia units to help guard those men.
What to See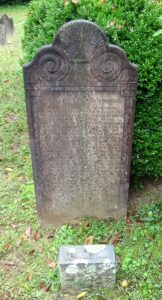 Walk to the house.

Lenoir adopted the fort's name for his house. The red part with the porch came first. He built the extension, without a connecting door, for himself and Ann in 1823. They had let their son's family move in, and William found their brood ill-behaved! The house apparently was saved from destruction by United States forces during the Civil War because Lenoir's grandson Rufus and the Federal commander were both members of the Grand Masons.[15]
Guided tours offer views of the rooms and pass along stories of the Lenoir family and descendants, who lived here until 1964. You can see artifacts like housewares and many furnishings owned by Lenoir and his family, including some from their American Revolution home. There is also a very unique chair (described in this footnote[16] for those who can't visit). A European chestnut tree planted by Lenoir is at the right rear corner of the garden; a beech that was already 200 years old during the war lives on, in the far-left corner of the clearing behind the house. Unfortunately, attempts by archaeologists to find the slave quarters have failed.[17]
The nearby city; the county containing Kinston; and a street in the capital city of Raleigh are named for Lenoir.
More Information
Forrester, Ike, 'Old Fort Defiance Location', E-mail, 28 September 2020
Hamilton, J. G. de Roulhac, 'Revolutionary Diary of William Lenoir', The Journal of Southern History, 6.2 (1940), 247–59 https://doi.org/10.2307/2191209
Hawkins, John, 'County's Citizenry Fought for Independence', Lenoir News-Topic, 22 October 1991
Hawkins, John, 'Land Ownership before Lenoir', Lenoir News-Topic, 25 June 1991
Hawkins, John, 'Revolutionary War Article', E-mail, 9/24-26/2020
Jones, Randell, Before They Were Heroes at King's Mountain, North Carolina/Tennessee Edition (Winston-Salem, NC: Daniel Boone Footsteps, 2011)
'Marker: N-1', North Carolina Highway Historical Marker Program <http://www.ncmarkers.com/Markers.aspx?MarkerId=N-1> [accessed 26 September 2020]
Robbins, Kristen, Fort Defiance, In-person interview with tour, 9/24/2020
Shrader, Richard, 'Fort Defiance', NCpedia, 2006 <https://www.ncpedia.org/fort-defiance> [accessed 26 September 2020]
Shrader, Richard, 'Lenoir, William', NCpedia, 1991 <https://www.ncpedia.org/biography/lenoir-william> [accessed 8 May 2020]
York, Maury, The Many Faces of Fort Defiance, Office of Archives and History Research Reports (North Carolina Office of Archives and History, 1979) <https://digital.ncdcr.gov/digital/collection/p16062coll6/id/6557/rec/2> [accessed 14 April 2020]
---
[1] York 1979.
[2] Robbins 2020.
[3] Hamilton 1940.
[4] King's Mountain details: Robbins.
[5] York.
[6] Schools: Robbins.
[7] York; contrary to some modern sources, Lenoir was not involved.
[8] Local stories (Hawkins 2020), a written description by a direct descendent (per Forrester 2020), the topography, and mentions of the house being near the fort site (York) suggest that location. Another possibility is a site closer to the first Lenoir home, based primarily on the fact the Lenoir's two-year-old fell in the remains of the fort while they were living there (Forrester). However, that house was close enough that the family could easily have been visiting the fort.
[9] Grandfather: Ibid.
[10] Ibid.
[11] Robbins.
[12] York.
[13] Lenoir recorded in his journal (Hamilton 1940) that they marched 12 miles that day to Crider's Fort, which was on the current site of the old Lenoir High School building. That is 11.4 miles away by modern roads. So they camped somewhere nearby. Since he doesn't mention the fort believed to have been built the year before, either they were not at this spot, or the fort was elsewhere (see Footnote 8).
[14] Jones 2011.
[15] Robbins.
[16] Per Robbins: A birthing chair, with a narrow seat upturned at the sides to cradle the hips, and a back support angled slightly backwards.
[17] All details in paragraph: Robbins.
← Tory Oak | Wachovia Tour | Wolf's Den →