A Patriot Leader is Rescued
Location
Other maps: Bing, Google, MapQuest.
Coordinates: 36.3150, -81.6464.
Type: Stop
Tour: Wachovia
County: Watauga

Full
The Wolfe's Den is on private land and inaccessible to the public. The coordinates take you to a turnaround where Ramsey-Woodring Road and Cascade Lane meet NC 194. Enter at the right (north or Cascade) side of the loop and park facing Ramsey-Woodring.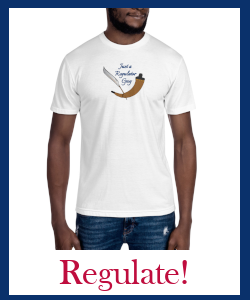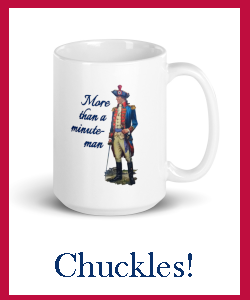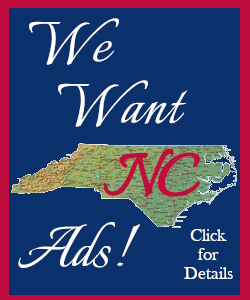 Description
No two sources repeat the same details of this story. This page combines them into what seems a likely narrative. Believe details with caution!
Look at the peak to the right of you, Riddle's Knob. Ramsey-Woodring Road appears to point at it.
Patriot Col. Benjamin Cleveland, a veteran of both the 1776 Cherokee and 1780 Overmountain campaigns, was the commander of the Wilkes County Regiment of militia (part-time soldiers). He was also notorious, known for whipping and even hanging Loyalists without (genuine) trials, despite orders from the Continental Army not to. In addition to his home plantation, "The Round About," between modern Elkin and Wilkesboro, he had another plantation at the Old Fields about 14 miles to the northeast.[1] While inspecting his cattle in Spring 1781 with an enslaved servant, Cleveland stopped in to visit a friend.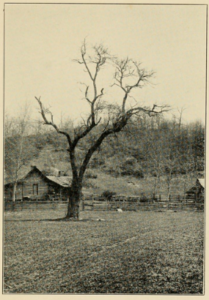 Loyalist ("Tory") Capt. William Riddle was escorting Patriot or "Whig" prisoners to the British stronghold at Ninety-Six, S.C. With him were a half-dozen of his men, his wife, and his enslaved servant.[2] Riddle somehow learned of Cleveland's presence. Rather than attack the house, knowing him a formidable fighter, the Tories stole the horses from the barn to set up an ambush in the open. Among these were Cleveland's, which was probably the former mount of British Maj. Patrick Ferguson, killed at the Battle of King's Mountain (S.C.) in the Overmountain Campaign. As planned, this lured Cleveland, his servant, and a few others to chase them to a house four miles away. There they were ambushed, on Saturday, April 14, 1781. One Whig named Calloway was shot in the thigh by Zachariah Wells, who would come to regret that action.[3]
Several of the Whigs escaped, but the rest were taken into the house. There one of Riddle's men threatened to kill Cleveland. Cleveland grabbed a woman visiting the home and used her as a human shield, until Riddle arrived and agreed not to kill him.
Riddle led the party toward his hideout another knob or two over by way of Pine Orchard Creek. That runs along NC 194 starting just north of here (behind you). They camped at the Wolf's Den cavern at what later is named Riddle's Knob. (Some sources say this was their hideout, but the slopes are steep, and there appears to be no water source nearby.)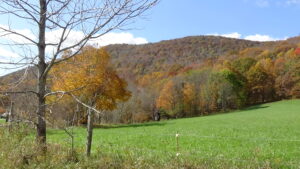 Unknown to Riddle, Cleveland had been breaking branches and kicking over stones to mark their route. A few men who escaped the ambush followed the Tories, while another rode off to inform Cleveland's brother Robert. Robert lived about eight miles this side of modern Wilkesboro (where his relocated house can be seen today). Robert gathered up to 30 men and gave chase overnight.
As the sun began to rise, the Tory militia roused themselves and ate breakfast. Cleveland was seated on a log with his hands tied, a guard aiming Cleveland's own pistol at his head. Along with the wounded Calloway and Cleveland's enslaved servant (name unknown), at least one other previously captured Whig was there as well.
Riddle walked over to Cleveland and demanded that he write out passes for him and each of his men claiming they were Patriots, so they would not be harassed by local Whigs. Cleveland's hands were untied and he was handed a pen, ink, and paper. He reluctantly began to write. Hoping for a rescue—or perhaps assuming he would be killed as soon as he finished, despite Riddle's promise—he wrote slowly. Riddle demanded that he hurry up, but Cleveland blamed his speed on having bad handwriting.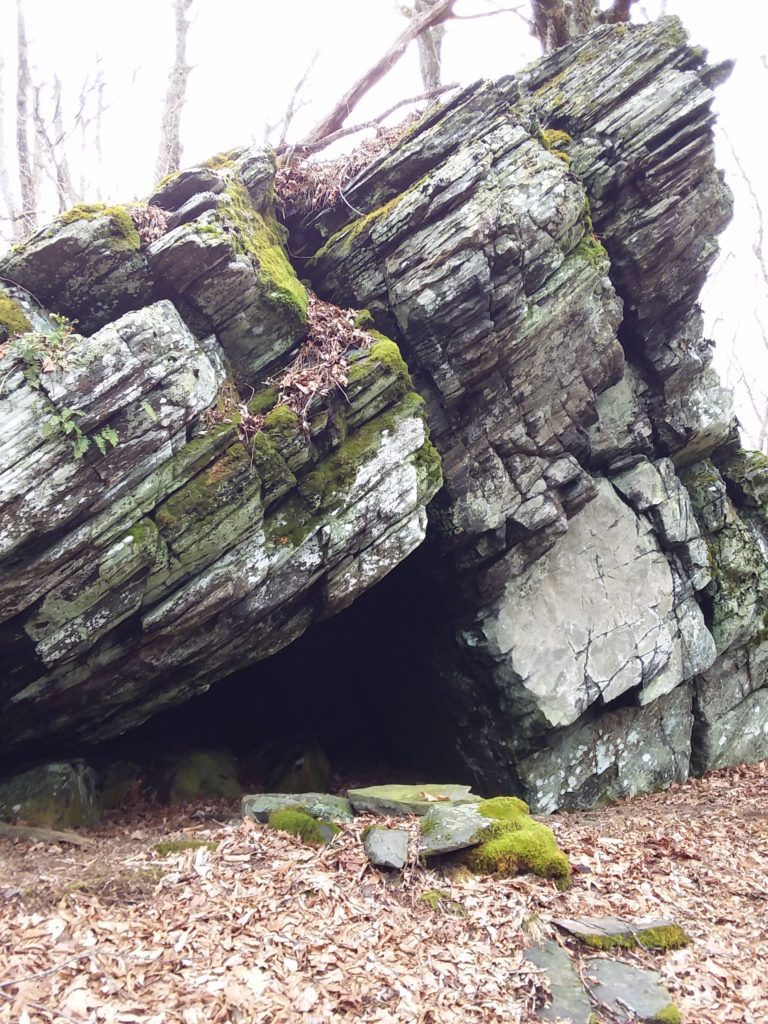 Supposedly he was "laboring" over the last pass when the party tracking them arrived. They charged and opened fire. The 300-pound Cleveland rolled back and under the log for protection. The Tories took off without a fight, Wells getting shot in the back as he ran. He was left for dead, but recovered, only to meet a grim end at The Round About.
The Patriots gave chase. They eventually captured Riddle and two others, including most likely his 15-year-old son Moses. These were hung from the Tory Oak in Wilkesboro after a court martial presided over by… Benjamin Cleveland.
This was the only military action of the Revolution in modern Watauga County. Men from here fought on both sides, however, and at least one former Tory was murdered in the county right after the war by Patriots.[4]
What to See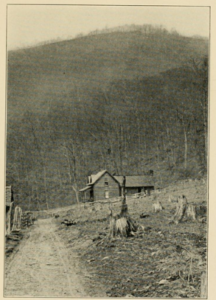 The Wolf's Den is a small cavern under a granite outcropping, supposedly named that because locals tried to control the wolf population by killing litters there every spring.[5] The opening is not large enough for people: about four feet tall, expanding to six feet wide a short way in, and getting narrower as it goes further back, according to an AmRevNC visitor.[6] In colder months when the leaves are down, the outcrop may be visible just below the summit facing this way.
Compare the view from here to the one in the 1915 photograph[7]. It's unclear whether the current house is the same one, but it appears to be in the same place.
More Information
Arthur, John Preston, A History of Watauga County, North Carolina. with Sketches of Prominent Families (Richmond, Va.: Everett Waddey Co., 1915)
Arthur, John Preston, Western North Carolina: A History (1730-1913) (Raleigh, N.C.: Edwards & Broughton Printing Company, 1914)
Barefoot, Daniel, Touring North Carolina's Revolutionary War Sites (Winston-Salem, NC: John F. Blair, Publisher, 1998)
'Capture and Rescue of Benjamin Cleveland', New River Notes <https://www.newrivernotes.com/topical_history_revwar_capture_rescue_benjamin_cleveland.htm> [accessed 16 February 2020]
Draper, Lyman Copeland, King's Mountain and Its Heroes: History of the Battle of King's Mountain, October 7th, 1780, and the Events Which Led to It (Cincinnati: Peter G. Thomson, Publisher, 1881) <http://archive.org/details/cu31924032752846> [accessed 31 March 2020]
'History of Todd, NC', Todd Community Preservation Organization, 2016 <http://toddnc.org/about-todd/> [accessed 16 February 2020]
Lewis, J. D., 'Big Glades', The American Revolution in North Carolina –, 2010 <https://www.carolana.com/NC/Revolution/revolution_big_glades.html> [accessed 16 February 2020][8]
Sherman, Wm. Thomas, Calendar and Record of the Revolutionary War in the South: 1780-1781, Tenth Edition (Seattle, WA: Gun Jones Publishing, 2007) <https://www.americanrevolution.org/calendar_south_10_ed_update_2017.pdf>
Wadsworth, E. W., 'The Ghost of Riddle's Knob', The State, October 1982
---
[1] Wadsworth 1982.
[2] Ibid.
[3] Ibid.
[4] Arthur 1915.
[5] Ibid.
[6] Ibid.
[7] Roberts, Phillip, 'Wolfe's Den at Riddles Knob Watauga Co,' E-Mail, 17 March 2021.
[8] This usually reliable source has the wrong name for the location. All other facts on the page align with the other sources on the Cleveland capture, and it adds corroboration and details from a veteran's pension application. Big Glades is further north, now in Ashe County, and was a Tory militia muster point. It is possible Riddle passed through there on the way south.