A Patriot Builds Where He Camped
Location
Other maps: Bing, Google, MapQuest.
Coordinates: 35.5496, -82.6368.
Type: Stop
Tour: Cherokee
County: Buncombe

Partial
As you near the coordinates, look for a fenced area apparently dead ahead. It is actually on the right as the road curves left across the street from 63 Captain's Drive. Park by the fence.
The grave is barely visible from the street, but a close-up view might be difficult for people with mobility issues. The homesite visited later is fully visible from your vehicle. People with larger vehicles may have trouble parking or returning to the road there, however.

Description
Moore's Grave
Walk through the gate and go to the inner fenced area. A marker for William Moore is on the left. His grave is behind it, next to the left-side fence.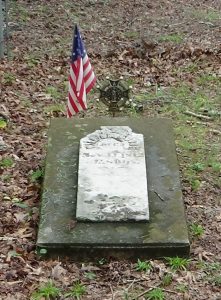 Sent to America from Ireland at age 13 or 15 with eight brothers by their widowed mother, William Moore lived in North Carolina by 1776. Nothing else is known about his life prior to that year, when he took command of a company of Patriot militia cavalry around age 50. The company of part-time soldiers served under his brother-in-law, Brig. Gen. Griffith Rutherford, during the Cherokee Campaign of September 1776. His company apparently was sent ahead of the main force to scout, and camped above Hominy Creek to await them at the spot visited later on this page.[1]
Moore also led a separate raid in November that burned the town of Stecoah and attacked a number of Cherokee camps, detailed in a letter to Rutherford. He apparently got as far as the valley containing the modern town of Cherokee, though there were no major villages there at the time. A number of Cherokee men and women were murdered in the raid. Moore reported no casualties among his men, though a dispute with them over disposition of their prisoners turned ugly (see "Pigeon River Campsite").
Moore added a comment in the letter that he surely recalled four years later, as he served with the Patriots in the Overmountain Campaign that ended in victory at the Battle of King's Mountain (S.C.). He wrote, "I have one thing to remark, which is this, that where there is separate Companys United into one Body, without a head Commander of the whole, I shall never Embark in such an Expedition Hereafter; for where every Officer is a Commander there is no command." Moore served in the Lincoln County Regiment of Patriot militia in 1779-80. Shortly before his unit joined the Overmountain Men in October 1780, their colonels had decided the exact same thing at Bedford Hill and chosen an overall commander!
Moore was taken with this area. He returned the next year and built a blockhouse, Fort Moore, and home at the spot visited below, part of a tract of 640 acres.[2] After the war he was a justice of the peace and sheriff of what then was still Burke County. He died at 85 or 86 in 1812.
The marker and the monument below may overstate Moore's history, but he certainly was one of the first European-American settlers west of the French Broad River, which runs through modern Asheville.
Camp and Homesite
Turn around in the cul-de-sac ahead of you and:
Go back to Sand Hill School Road, and turn right.
Drive 0.4 miles to Sand Hill Road, and turn right.
Drive 0.4 miles again until you see a large stone monument on the left.
Watch for traffic, and park on the shoulder on that side just past it.
Note: Larger vehicles can continue to the next street on the right, Van Wayne Drive, and park there.


Face the hill behind the monument.
The bridge downhill, farther down Sand Hill Road, crosses Hominy Creek. The Rutherford Campaign was following it, and thus passed over or near this ground both coming and going.
A Moore descendant wrote that Moore's detachment camped on the hill behind the state historical marker, to your left and above the gas facility. During the war Moore built his blockhouse somewhere around the modern house behind the state historical marker to your right (year unknown). Its primary purpose was to protect area European-Americans from Native American attacks, but it may also have offered security to Patriots against Loyalist militia.
Often such forts were also the builder's homes, but in this case Moore had a separate house on the hill of his 1776 camp. Moore and his second wife Margaret Patton raised 12 children there, half from his first marriage.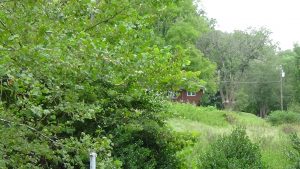 The first date on the monument is a bit confusing, because he was not granted title to this land until years after he had moved here. It reads:
Home Place
Of
Capt. Wm. Moore
Here On Land Granted Him In 1787,
He Erected The First House Of White
Settlers West Of The Blue Ridge.
Capt. Moore And His Troops Camped Near
Here When On The Rutherford Expedition
Against The Cherokee In 1776.
If you are taking the Cherokee Campaigns Tour, and want to stay closer to the route followed by Rutherford's army than your mapping app will take, see Rutherford Trace Route 2.
More Information
Arthur, John Preston, Western North Carolina, A History, 1730-1913 (Spartanburg, S.C.: The Reprint Company, 1973; first published 1914)
Barefoot, Daniel, Touring North Carolina's Revolutionary War Sites (Winston-Salem, NC: John F. Blair, Publisher, 1998)
'Captain William Hamilton Moore, I (1726-1812)- Asheville', GENi <https://www.geni.com/people/Captain-William-Moore-I/6000000000761236827#name=Captain%20William%20Hamilton%20Moore,%20I?> [accessed 8 August 2020]
'Commemorative Landscapes of North Carolina', 2010 <https://docsouth.unc.edu/commland/monument/899/> [accessed 8 August 2020]

Dean, Nadia, A Demand of Blood: The Cherokee War of 1776 (Cherokee, N.C.: Valley River Press, 2012)

'Marker: P-54', North Carolina Highway Historical Marker Program <http://www.ncmarkers.com/Markers.aspx?MarkerId=P-54> [accessed 8 August 2020]
Moore, William, 'A Letter to Brigadier General Rutherford', 17 November 1776 <https://www.ncpedia.org/anchor/letter-brigadier-general> [accessed 8 August 2020]
Neufeld, Rob, 'Visiting Our Past: Early WNC Land Grants', The Asheville Citizen Times, 2014 <https://www.citizen-times.com/story/opinion/contributors/2014/05/04/visiting-past-early-wnc-land-grants/8697865/> [accessed 8 August 2020]
'William Moore', Burke County Sheriff's Office <http://www.burkesheriff.org/Moore.htm> [accessed 8 August 2020]