Patriot Victor at Ramsour's Mill
Biography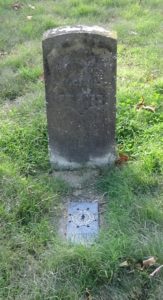 Francis Locke of Northern Ireland immigrated to Pennsylvania with his family as a child, and to the Salisbury area as an adult. He bought 640 acres and had a home built outside of town. He and his brother Matthew started what today would be a trucking company, running wagons between Charleston and Salem (now Winston-Salem). In 1764 he opened a tavern in his home, and he was also a farmer, carpenter, and road surveyor. Francis was a member of the local militia as early as 1759, and went with Brig. Gen. Griffith Rutherford on the 1776 Cherokee Campaign. Locke also served in South Carolina and Georgia, but gained fame leading the Patriot militia victory over a much-larger Loyalist force at the Battle of Ramsour's Mill. His mounted militia shadowed British forces in both invasions of North Carolina, inserting itself between the two British armies during the first one. He may have sat out the first part of the Race to the Dan at home, losing face with at least one militia officer.[1] However, after the British were blocked from crossing at the nearby Trading Ford, Locke and his 100-man company burned a bridge on the route to the next suitable ford with only one casualty, despite nearly getting surrounded. Locke was ordered to defend the western region of the state, and thus did not participate in later actions of the Guilford Battle campaign. But he remained in the army until 1784, and then returned to plantation life. Apparently he studied law, because he was named a state attorney in 1794, only to die two years later. He is buried at Thyatira Presbyterian Church near his homesite.
More Information
Babits, Lawrence, and Joshua Howard, Long, Obstinate, and Bloody: The Battle of Guilford Courthouse (Chapel Hill: The University of North Carolina Press, 2009)

Barefoot, Daniel, Touring North Carolina's Revolutionary War Sites (Winston-Salem, NC: John F. Blair, Publisher, 1998)
Brawley, James, 'Locke, Francis', NCpedia, 1991 <https://www.ncpedia.org/biography/locke-francis> [accessed 23 April 2020]
Lewis, J. D., 'The Patriot Leaders in North Carolina – Francis Locke', The American Revolution in North Carolina, 2013 <https://www.carolana.com/NC/Revolution/patriot_leaders_nc_francis_locke.html> [accessed 23 April 2020]
---
[1] Babits and Howard 2009.