Diarist of the Cherokee Campaign
Biography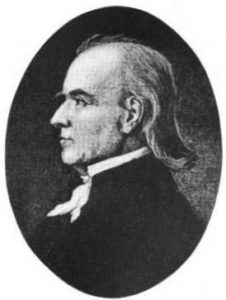 Virginia-born William Lenoir moved with his family to a plantation outside Tarboro at age 8. His father died six years later, and William was mostly self-educated, teaching himself business with a math textbook.[1] Lenoir taught for a few years before learning surveying. In 1775 he moved his wife and two enslaved women to Mulberry Fields (now Wilkesboro). Lenoir became clerk of the county "Committee of Safety," essentially its new Patriot government. He first served in the Surry County militia the next year, as a lieutenant on a campaign towards Wilmington, and then in the Cherokee Campaign. Lenoir is valued by historians for the diary he kept of his war experiences.[2] When Wilkes County was created in 1777, he was named justice of the peace, a position he held the rest of his life along with a number of other county positions. He saw little combat for the next few years, until the 1780 Overmountain Campaign in which he received minor wounds at the Battle of King's Mountain (S.C.). Lenoir was part of Lt. Col. Henry Lee's force that screened the Continental Army prior to the Battle of Guilford Court House, including at Pyle's Defeat, but he was back home raising troops during the climactic battle. After the war he was elected to the state house and senate and served in the state convention to ratify the U.S. Constitution. Lenoir also was the first president of the University of North Carolina Board of Trustees. Meanwhile he rose to the rank of major general of the militia before retiring in his 60s. Lenoir had a home built in 1792, "Fort Defiance," near the town that now bears his name, and became one of the state's largest landowners. He held many enslaved people, but documents suggest he was not as abusive as many slaveowners. He effectively retired in 1822, and died at Fort Defiance two days shy of his 88th birthday. Also named for him are Lenoir County, and Lenoir Street in Raleigh.
More Information
Hamilton, J. G. de Roulhac, 'Revolutionary Diary of William Lenoir', The Journal of Southern History, 6.2 (1940), 247–59 https://doi.org/10.2307/2191209
Shrader, William, 'Lenoir, William', NCpedia, 1991 <https://www.ncpedia.org/biography/lenoir-william> [accessed 8 May 2020]
York, Maury, The Many Faces of Fort Defiance, Office of Archives and History Research Reports (North Carolina Office of Archives and History, 1979) <https://digital.ncdcr.gov/digital/collection/p16062coll6/id/6557/rec/2> [accessed 14 April 2020]
---
[1] York 1979.
[2] Hamilton 1940.