A Massacre after Midnight
Location
Type: Hidden History
County: New Hanover

None
Rouse's Tavern, also known as "Eight Mile House," was said by most eyewitnesses to be seven or eight miles outside Revolutionary Wilmington on the New Bern Road. US 17 mostly follows that route today. Thus the tavern was somewhere in today's Ogden, named for the man who sold the land to Alexander Rouse, near (or under) the modern highway. However, the exact location of the land and tavern appears lost to history.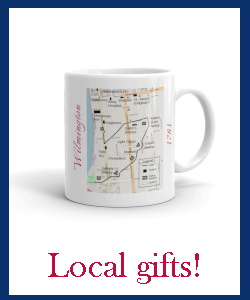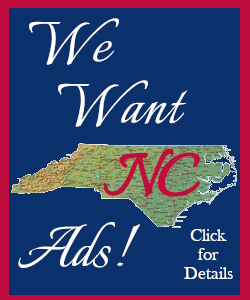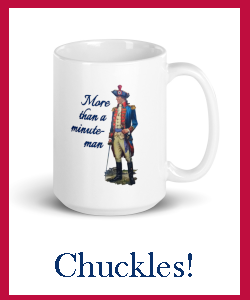 Description
The basic facts of an attack at Rouse's Tavern were recounted by several veterans around 50 years later. However, almost all of the details come from a single source. That is a clearly embellished version written shortly before 1854 by a Wilmington legislator, lawyer, and actor. He claimed he heard it from an eyewitness in 1819, already 38 years after the event.[1] Believe details with caution.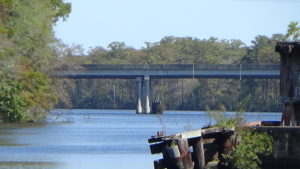 The Wilmington area was in a standoff in March of 1781. The city was occupied by a British corps under Maj. James Craig. A Patriot or "Whig" force of part-time "militia" soldiers camped at the main route to the north across Heron's Bridge, under Brig. Gen. Alexander Lillington. The forces had battled twice there without changing the standoff.
Craig often ordered units out the New Bern Road to find food. Lillington sent a company of around 25 "light horse," meaning mounted soldiers in this case, to drive cattle away from the area so the British couldn't get them. One night, exact date unknown, part of the Patriot unit camped at a "Widow Colier's" house 12 or 13 miles east of Wilmington with some of the cattle, according to Pvt. George Reed.[2] Part of the men, under Maj. James Love, decided to head off for a drink at Alexander Rouse's "ordinary," a tavern that also served food and probably included sleeping rooms, about four miles closer to town. It was on land Rouse bought along the northwest side of the road in 1768 from Richard Ogden.[3]
Love had fought under Lillington at the 1776 Battle of Moore's Creek Bridge, which blocked Loyalist recruits from joining the first attempted invasion of North Carolina by the British army. During the Craig occupation, he and another man had a reputation for riding up to the edge of Wilmington close enough to shoot some of the British guards, and then dallying long enough to attract their cavalry into ambushes.
Love supposedly told Patriots at Colier's that he and his fellow partiers would be back by 10 p.m. Like many drinkers before and since, they instead continued past midnight. Finally they squeezed onto the floor to sleep, their saddles serving as pillows.
The British learned they were there from a Tory merchant returning to Wilmington.[4] Craig sent a detachment of 60-70 soldiers, mostly cavalry "dragoons" with some infantry, who either shared the cavalry horses or rode separate ones.
The story says the Redcoats were able to surround the tavern by torchlight before the Patriots awakened. The raiders were about to pry open the locked door when it burst open: Love had heard them. Using his saddle now as a shield, he came out swinging his sword. He made it about 30 yards to a mulberry tree before he fell victim to multiple bayonet wounds. The civilian eyewitness, named only as "Thomas," claimed he had climbed into a pair of large branches to sleep off his drinks. He now was watching from its limbs.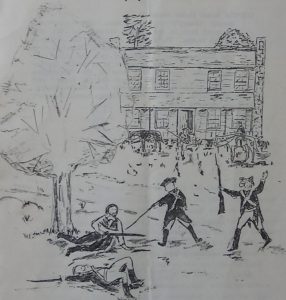 The commander supposedly ordered "'no quarter to the damned rebels'"—in other words, take no prisoners. His troops moved inside and began bayoneting men in their sleep. A few Patriots awakened in time to fight back or make it barely out the door before being killed. Only one managed to escape.
A Patriot cavalry officer, Lt. Col. Thomas Bloodworth, somehow learned of the attack and arrived the next morning. The two Thomases went inside and found a scene of horror: "The floor covered with dead bodies & almost swimming in blood, & battered brains smoking on the walls; In the fireplace sat shivering over a few coals, an aged woman surrounded by several small children, who were clinging to her body, petrified with terror."[5]
Some of the British apparently continued down the road, because all six of the men at the Colier house were captured after a brief fight. According to Reed's application for a government pension, "He received from this skirmish two wounds from a bayonet; one on the side & one in the leg below the knee." It adds, "the bone was injured by the bayonet & ever since that time his leg has occasionally broken out causing him a great deal of pain & loss of time…" Reed said another man was mortally wounded at Colier's, and the remaining six were released on parole, on condition of turning themselves into Craig to "take protection." But five of the six, including Reed, ignored those promises.[6]
Sources differ on the Patriot casualties, ranging from eight to 11 with one or two injured, including Thomas' brother. Thomas said he and Bloodworth found bloody trails on the road toward Wilmington, indicating some British were wounded by Love.
Among the dead supposedly was a close friend of Bloodworth, "who he loved as a brother…" This set up another story from the same main source, told on our Wilmington page at a stop overlooking McNeill Point.
Historical Tidbits
(Credit: Jacobs 1939)

When George Washington toured the Southern states as president in 1791, he said he was met by a group of dignitaries in the vicinity of the "Rouse House." They dined nearby before continuing to Wilmington.[7] In 1925 the local Daughters of the American Revolution (DAR) chapter placed a marker by an old tree Washington may have seen along the road, but it was farther out the old New Bern Road.[8]
Historians have long searched for the site of the tavern. Some modern sources report that the DAR chapter put a marker near the tavern in the 1930s, and it was torn up when US 17 was expanded. A review of the local chapter's scrapbooks from the 1920s–50s[9] and an interview with a long-time DAR member[10] found otherwise. Those sources indicate a local historian proposed a state highway marker in 1933, and made a presentation to the chapter about that. But the state turned down the application due to a lack of documentation from the time of the attack. The chapter never placed one.
More Information
De Van Massey, Gregory, 'The British Expedition to Wilmington, North Carolina, January-November, 1781' (East Carolina University, 1987)
'Deed, Richard Ogden to Alexander Rouse, Book F, Page 23, New Hanover County Register of Deeds', 1768
Dunkerly, Robert M., Redcoats on the Cape Fear: The Revolutionary War in Southeastern North Carolina, Revised (Jefferson, N.C.: McFarland & Company, Inc., Publishers, 2012) <https://dur.ent.sirsi.net/client/en_US/default/search/detailnonmodal/ent:$002f$002fSD_ILS$002f0$002fSD_ILS:762216/ada?qu=Redcoats+on+the+Cape+Fear> [accessed 6 August 2020]
Fussell, Jr., Horace, Leon Sikes, and Dallas Herring, eds., Footnotes (Rose Hill, N.C.: Research Committee of the Duplin County Historical Society, 1985), Vol. 19-2
Graves, Will, ed., 'Pension Application of Benjamin Taylor R10406', Southern Campaigns Revolutionary War Pension Applications & Rosters <https://www.revwarapps.org/> [accessed 29 April 2021]
Graves ed., 'Pension Application of George Reed R8658', Southern Campaigns Revolutionary War Pension Applications & Rosters <https://www.revwarapps.org/> [accessed 29 April 2021]
Graves ed., 'Pension Application of John Rigby S9057', Southern Campaigns Revolutionary War Pension Applications & Rosters <https://www.revwarapps.org/> [accessed 29 April 2021]
Harris, C. Leon, ed., 'Pension Application of Jesse Miles S21886', Southern Campaigns Revolutionary War Pension Applications & Rosters <https://www.revwarapps.org/> [accessed 29 April 2021]
Hutteman, Ann, Stamp Defiance Chapter, Daughters of the Revolution, and Rouse's Tavern, In-person interview, 2021
Lewis, J.D., 'Rouse's Tavern', The American Revolution in North Carolina, 2011 <https://www.carolana.com/NC/Revolution/revolution_rouses_tavern.html> [accessed 15 March 2021]
Lillington, Alexander, 'General Alexander Lillington to General Nathanael Greene', 9 April 1781, William L. Clements Library, Univ. of Michigan, Ann Arbor, Nathanael Green Papers
McGeachy, John, Revolutionary Reminiscences from the 'Cape Fear Sketches' (North Carolina State University, 2002)
Steelman, Ben, 'Where Exactly Was Rouse's Tavern?', MyReporter.Com, 2013 <http://www.myreporter.com/2013/10/where-exactly-was-rouses-tavern/> [accessed 15 March 2021]
Stille-Ferguson, Evelyn, 'Stamp Defiance Meets at Home of Mesdames Howell and Norden', The Sunday Star-News (Wilmington, N.C., 15 October 1933)
---
[1] Transcribed in McGeachy 2002.
[2] "Pension application of George Reed."
[3] "Deed, Richard Ogden to Alexander Rouse." The deed conveyed a roughly half-mile tract with the buildings on it, but does not specify what those buildings were. An earlier deed it refers to references landmarks like trees, so the land's location is unclear as well.
[4] Dunkerly 2012.
[5] McGeachy.
[6] Reed.
[7] Henderson, Archibald, Washington's Southern Tour, 1791 (New York: Houghton Mifflin Company, 1923) <http://archive.org/details/washingtonssouth00hend> [accessed 19 May 2021];
[8] Hutteman 2021; Jacobs, Mary, ed., In Our Chapter (Wilmington, N.C.: Stamp Defiance Chapter, Daughters of the American Revolution, 1939).
[9] AmRevNC review of scrapbooks, North Carolina Room, New Hanover Public Library, 4/13/21.
[10] Hutteman.