Led the British Occupation of Wilmington
Biography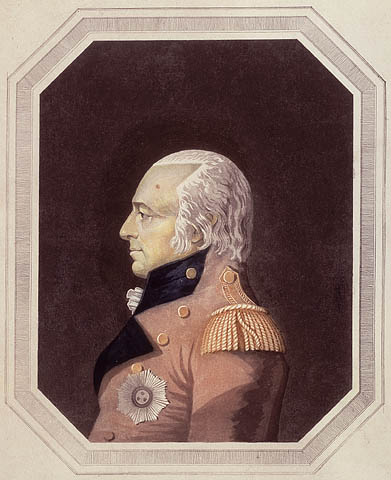 Life began on the Rock of Gibraltar for James Craig, the son of a judge. After military school in Italy, Craig joined the British army at age 15. Ten years later, in 1773, he was an infantry officer in New Jersey. He led Redcoats in many northern battles of the Revolution and was wounded at least twice, including at Bunker Hill (Mass.).[1] Craig was asked to negotiate the surrender of the British at the Battle of Saratoga (N.Y.) in 1777, and carried the terms back to London. He returned a major, in command of a new regiment of 200, the 82nd Foot. It spent its first 18 months mostly in Nova Scotia, with Craig serving as a court martial judge. In January 1781, the 82nd was transferred to Charleston, where Lord Charles Cornwallis ordered Craig to occupy Wilmington with additional troops. For 11 months Craig foraged supplies for British forces in the south, captured Patriots, burned their plantations, fostered Loyalist reprisals, and raided New Bern. After Cornwallis surrendered, Craig was ordered to abandon the area. Later he was knighted and served in Ireland, Flanders, India, and Italy, and as governor of the Colony of Good Hope in Africa. One of his officers wrote of him, "'In person he was very short, broad, and muscular, a pocket Hercules, but with sharp, neat features, as if chiselled in ivory. Not popular, he was hot, peremptory, and pompous, yet extremely beloved by those whom he allowed to live in intimacy with him; clever, generous to a fault, and a warm and unflinching friend to those whom he liked.'"[2] His last post was Governor of Canada, where his lack of diplomatic skills alienated the French-Canadians, and he was forced out in disgrace. He died in London shortly after that in January 1812, having attained the rank of full general.
More Information
'Craig, Sir James Henry', Dictionary of Canadian Biography, Volume V (1801-1820) <http://www.biographi.ca/en/bio/craig_james_henry_5E.html> [accessed 7 April 2020]
O'Kelley, Patrick, Nothing but Blood and Slaughter: The Revolutionary War in the Carolinas, Volume Three, 1781 (Booklocker.com, Inc., 2005)
Rosenberg, Chaim, 'James Henry Craig: The Pocket Hercules', Journal of the American Revolution, 2017 <https://allthingsliberty.com/2017/10/james-henry-craig-pocket-hercules/> [accessed 7 April 2020]
'Sir James Craig | Governor General of Canada', Encyclopedia Britannica <https://www.britannica.com/biography/James-Craig-governor-general-of-Canada> [accessed 7 April 2020]
Sherman, Wm. Thomas, Calendar and Record of the Revolutionary War in the South: 1780-1781, Tenth Edition (Seattle, WA: Gun Jones Publishing, 2007) <https://www.americanrevolution.org/calendar_south_10_ed_update_2017.pdf>
---
[1] O'Kelley 2005.
[2] Quoted in Sherman 2007.