Governor Kidnapped by Loyalists
Biography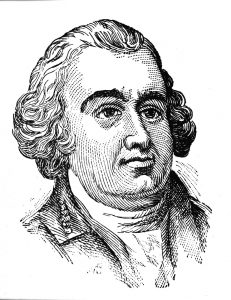 Born in Ireland and apparently raised by an uncle, Thomas Burke emigrated to Norfolk, Va., where he practiced medicine, law… and poetry! An early rebel, he published his opposition to the 1765 Stamp Act. He bought a plantation, "Tyaquin," north of Hillsborough in 1772, where he moved his law practice. After serving in the Provincial Congress, he was elected to the Continental Congress. When most members fled Philadelphia upon the approach of the British Army, Burke joined N.C. troops in the Continental Army and was at the 1777 Battle of Brandywine (Penn.). In the chaotic year of 1781, he was elected by the General Assembly to be the third governor of the state. He had lost his left eye to smallpox (despite what his picture shows), told good stories, "sang a good song," and was able to write poetry on demand.[1] He did what he could to reform the militia and the courts, initially from Halifax.[2] He also created controversy by vetoing assembly decisions, common now, but not then allowed under the state constitution. Burke moved back to Hillsborough to help suppress Loyalist activity, only to be kidnapped by Tory leader David Fanning. He was turned over to the British in Wilmington and then imprisoned in Charleston. Sources differ on what happened next. Burke repeatedly wrote letters to the British commandant there that were ignored. After a tough couple of months he somehow escaped, supposedly afraid for his life, and indeed someone was shot at his abandoned quarters the next day.[3] To his surprise, his peers condemned his escape as dishonorable, because he broke a parole giving him a degree of freedom on James Island… or perhaps because he was finding corruption in the public accounts.[4] He tendered his resignation in 1782, probably expecting it to be refused by the General Assembly, but it was accepted. He died at Tyaquin a year later, only around 39, possibly of illnesses contracted in prison. He remains buried on the property.
More Information
Angeley, Wilson, 'Burke, Thomas', NCpedia, 2007 <https://www.ncpedia.org/burke-thomas-research-branch-nc-oah> [accessed 3 April 2020]
Lewis, J. D., 'Governor of the State of North Carolina – Thomas Burke', Carolana, 2007 <https://www.carolana.com/NC/Governors/tburke.html> [accessed 3 April 2020]

McRee, Griffith John, Life and Correspondence of James Iredell: One of the Associate Justices of the Supreme Court of the United States (New York: Appleton, 1857), Vol. I

Rankin, Hugh F., The North Carolina Continentals (Chapel Hill: The University of North Carolina Press, 1971)
---
[1] McCree 1857.
[2] Halifax: Rankin 1971.
[3] Rankin.
[4] Ibid.