Commander of the Continental Light Corps
Biography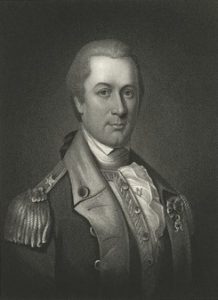 Both parents of Marylander Otho Williams died when he was 13, leaving him in charge of his seven younger siblings with only a small estate. To get by, he apprenticed with his aunt's husband as a clerk for Frederick County, later taking over for his uncle. At 18, according to a friend, "'He was about six feet high, elegantly formed; his whole appearance and conduct much beyond his years; his manner, such as made friends of all who knew him.'"[1] Five years later in 1767, he became a clerk in Baltimore County.
A year after entering business in 1774, Williams joined a militia rifle company as a lieutenant. It was ordered almost immediately to the Siege of Boston. During battles for New York City under Gen. George Washington, Williams' unit was posted in woods below Fort Washington on Manhattan. It held off several attacks by Hessian troops before being forced back into the fort, where he was captured. During the last charge he was shot in the groin, but eventually recovered. He was held 15 months, first given a lot of freedom on Long Island. Then, maybe because he stood up to a British noble, he was accused of corresponding with Washington and taken to a 16-by-16-foot jail cell shared with another. Underfed, he never fully recovered his previous health.
He was released as part of a prisoner exchange and returned to service as a lieutenant colonel, just in time to command a regiment at the 1778 Battle of Monmouth (N.J.). In 1780 he was in a detachment sent to relieve Charleston, however it started too late and was diverted to Cox's Mill near today's Ramseur. He recommended against Brig. Gen. Horatio Gates taking the army directly south to challenge the British, but fought dutifully in the terrible defeat at the Battle of Camden (S.C.) after Gates ignored him. Williams helped rebuild the army in N.C. as Maj. Gen. Nathanael Greene took command. During the Race to the Dan, Greene placed Williams in command of a fast-moving "light corps" meant to screen his army, harass the British, and prevent Loyalists from joining them. The corps was highly successful, allowing Greene to get across the Dan River safely, and giving him time to prepare after he returned to confront the British. Williams' leadership helped prevent a Continental collapse at the Battle of Guilford Court House. He received praise from Greene for his charge at the Battle of Eutaw Springs (S.C.). One early source says his horse was shot from under him and he was bayoneted in the chest, but not badly hurt.[2]
In March of 1782, Williams took leave back to Maryland. He did not return to active service, even after promotion to brigadier general. He invested in land and ships and was named naval commander and collector for the Port of Baltimore. Williams married in 1786, and they had four sons. He bought his father's former farm, and laid out the town on the Potomac named for him, Williamsport.[3] Alexander Hamilton was the recipient of Williams' last letter, sent a week before Williams died at 45 of tuberculosis, probably contracted while a prisoner. He wrote, "'We should not hope to be wealthy, or fear to be poor; we never shall want; and whoever considers the true source of his happiness, will find it… arising from a delicate concern for those dependent upon him, useful employments, and the approbation of his friends.'"[4]
More Information
Greenwalt, Phill, 'Author Interview & Review: Otho Holland Williams in the American Revolution by John Beakes', Emerging Revolutionary War Era, 2016 <https://emergingrevolutionarywar.org/2016/02/19/author-interview-review-otho-holland-williams-in-the-american-revolution-by-john-beakes/> [accessed 13 May 2020]
Kalmanson, Arnold W., 'Otho Holland Williams and the Southern Campaign of 1780-1782' (Salisbury University, 1990) <http://mdsoar.org/handle/11603/11437> [accessed 13 May 2020]
Tiffany, Osmand, A Sketch of the Life and Services of Gen. Otho Holland Williams, Read before the Maryland Historical Society on Thursday Evening, March 6, 1851 (Baltimore, Md.: John Murphy & Co., 1851)
'Otho Holland William's Tiny Cell – The Punishment of Continued Correspondence', Founder of the Day <https://www.founderoftheday.com/founder-of-the-day/otho-holland-williams> [accessed 14 May 2020]
Sherman, Wm. Thomas, Calendar and Record of the Revolutionary War in the South: 1780-1781, Tenth Edition (Seattle, WA: Gun Jones Publishing, 2007) <https://www.americanrevolution.org/calendar_south_10_ed_update_2017.pdf>
---
[1] Tiffany 1851.
[2] Ibid.
[3] Ibid.
[4] Ibid.