News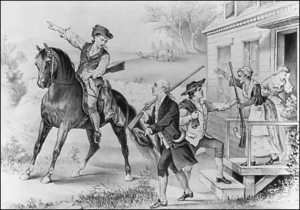 5/30/21: AmRevNC received a glowing review from the Yankee Doodle Spies blog of prolific Revolutionary War author S.W. O'Connell.
5/1/21: Our writer Jim Morgan has gratefully accepted an invitation to speak to the General Francis Nash Chapter of the N.C. Sons of the American Revolution on May 22 (postponed later to September).
4/11/21: The website and Hannah Blair are featured on the front of the Life section of the High Point Enterprise.
4/5/21: We are honored to be covered in the April edition of the newsletter of the NC Sons of the American Revolution. We especially love the comment that we aren't "know-it-alls," because we "enthusiastically invite" corrections!
3/17/21: AmRevNC is written up in The Enterprise (Nash County) and The Wilson Times.
3/11/21: AmRevNC is featured in GrepBeat.
3/10/21: Added Twitter account: @AmRevNC.
3/9/21: AmRevNC receives coverage on The Digital Courier.
3/8/21: "New Website Guides Visitors to American Revolution Sites in N.C." (News Release).
3/5/21: Site launched! Given covid restrictions, only two people attended live in the founder's living room, celebrating by splitting a mini-bottle of cachaça carried from Brazil 14 years earlier.
Updates
Keep checking here for significant site updates:
6/15/21: With thanks to local historian Bruce Petersen, we have corrected the page below regarding the likely location of the British army, which likely was not camped as close to the Continentals as we had it.
6/12/21: Our first post-launch Sight comes online: The story of a bugler who loses his horse, and then his life, near Bruce's Crossroads in today's Summerfield.
6/10/21: An amazing story of "missing" marksmen appears on the Battle of Whitesell's Mill page, courtesy of "Light Horse" Henry Lee.
5/22/21: Dr. William Read, chief surgeon for Nathanael Green's army in the South, provided us great new stories for the Trading Ford page.
5/19/21: New page added, unfortunately to the Hidden History section, telling the story of the massacre at Rouse's Tavern.
 5/8/21:

New info on the Battle of Cowan's Ford page includes that Greene rode 110 miles in four days to confer with Morgan and Davidson.
Put in a possible explanation for Tory Col. David Fanning taking a petition to the British asking them to appoint him commander of the Chatham and Randolph counties from Cox's Mill: He had won an election, but grumbling continued.
Added contemporary quotes regarding Tory activity and an unrelated, bizarre attack by Continental soldiers on the courthouse in Elizabethtown.

5/4/21: Introduced a few details about the Tory leaders at the Battle of Shallow Ford and Cornwallis' crossing.
5/1/21: Fears of a female congress in Edenton and the reason William Davidson did not get captured in the Fall of Charleston were added.
4/26/21: After saying there were no details about a Loyalist raid on Cross Creek, we came across some and added them to that page. We are delighted we were wrong! Other additions regard ex-Regulators in the Moore's Creek army and the rush to clear town before Cornwallis arrived.
4/24/21:

A number of interesting quotes regarding the British and Continental camps in Charlotte were added. (Look for footnotes with letters instead of numbers.)
Inserted a vivid quote about a counterattack by Catawba allies of the Patriots at the Battle of Clapp's Mill.

4/22/21: Changed the Battle of Cane Creek page to indicate Col. McDowell probably stayed with the Overmountain Men a couple days before riding off to Hillsborough, with details from a letter sent with him.
4/21/21: After visiting the public library in Marion, revisiting Turkey Cove, and finding the Cathey's Fort monument nearby (with the landowner's permission), we added details about the home's history to that page.
4/19/21: Intriguing details about why Gov. Thomas Burke escaped captivity after being kidnapped, and why some people denounced him for it, were added to his biography.
4/14/21: Added two quotes from British Lt. Anthony Allaire about his treatment and how Loyalists hung at Bickerstaff's Old Fields comported themselves.
4/12/21: Added new details about the Continental raid on the British at the former Alamance battleground; James Craig's description of Beaufort as a "rascally town"; and Cornwallis' order of "100 gallons of brandy" and "more than 300 lbs. of bread" from Bethabara.
4/10/21: Added an eyewitness account of the 1781 raid on Cornwallis' camp at the site of the Battle of Alamance, and corrected the direction of the British arrival. (We recently learned they came from the west.)
4/9/21: After a research trip live-tweeted yesterday, photos and current site information added to the Tryon's March page at May 12, 29, and 30, and June 1.
4/5/21: Added two events from the successful Spanish campaign against the British and Native Americans in modern Alabama and Florida, at 3/14 and 5/10/1781. Mobile fell the day before the Battle of Guilford Court House!
4/1/21: AmRevNC believes in transparency with our customers, and here is an example. We had the date wrong on the Battle of Clapp's Mill by a few days. Investigating how that happened, it turns out our first, usually reliable source had the wrong date. We didn't notice in our later sources, but found it during the ongoing research mentioned on 3/27. Corrected now. (No, this is not an April Fool's joke!)
3/29/21: Corrected who commanded the raid on Cornwallis' camp at Ramsey's Mill, based on the review below.
3/27/21: Currently three large reference works are under review, so they can be compared to find new corroborated facts for you. No major changes loom so far, but expect a wave of minor updates!
3/18/21: Corrected the date on our American Revolution Timeline for the Battle of Shallow Ford, which was off by a week. It was correct on the battle page.
3/18/21: Added a photo and physical description of the Wolf's Den, and corrected its exact location on Riddle's Knob, thanks to AmRevNC visitor Phillip Roberts.
3/15/21: After finding the original source, made minor corrections to the Thomas Bloodworth story on the Wilmington page.
3/15/21: Corrected the James Hogun page to show his regiment served at West Point, N.Y., adding that it stopped to get the new smallpox vaccine on the way.
3/13/21: Added the number of "Patriots of color" from North Carolina to the Revolutionary Minorities page (after manually counting them): 270!
3/13/21: Added social media sharing buttons to the bottom of all pages.
3/11/21: Added a photo to the "Tryon's March" page of the likely 6/20/1771 campsite of his army in

Durham

on the way back from the Battle of Alamance.

3/10/21: Events added to the American Revolution Timeline at: 11/16/1765, 2/19/1766, 11/2/1769, 8/8/1774, 8/25/1774, 5/31/1775, 6/20/1775, 8/14/1775, 3/14/1776, 5/29/1776, 3/9/1781.