Keep checking here for the latest news about AmRevNC and significant site updates:
Recent Updates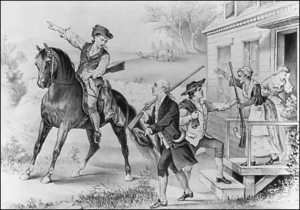 News
2/20/22: The Gazette-Virginian covered Founder Jim's presentation at the Crossing of the Dan commemoration.
1/18/22: Founder Jim spoke at the Chapel Hill-Carrboro Sunrise Rotary Club meeting, providing "tantalizing hints of the stories found on the website."
12/16/21: Founder Jim will be speaking on Feb. 17 at the South Boston-Halifax County (Va.) Museum of Fine Arts & History as part of the Crossing of the Dan anniversary celebration.
12/11/10/21: Jim has been invited to speak to the Chatham County Historical Association in February.
10/20/21: AmRevNC has agreed to provide content for exhibits at a new N.C. National Guard museum currently in planning.
10/4/21: A long article by "Founder Jim" about the site and its creation is featured in this month's edition of the newsletter of the N.C. Sons of the American Revolution. See "

New Resource for Compatriots:

AmRevNC.com" on

page 8.
9/25/21: Jim spoke to the General Francis Nash Chapter of the N.C. Sons of the American Revolution. The chapter president reported hours later, "Your presentation was thoughtful, tailored to events close to us, and well delivered. I have already received many compliments from members."
5/30/21: AmRevNC received a glowing review from the Yankee Doodle Spies blog of prolific Revolutionary War author S.W. O'Connell.
4/11/21: The website and Hannah Blair are featured on the front of the Life section of the High Point Enterprise.
4/5/21: We are honored to be covered in the April edition of the newsletter of the NC Sons of the American Revolution. We especially love the comment that we aren't "know-it-alls," because we "enthusiastically invite" corrections!
3/17/21: AmRevNC is written up in The Enterprise (Nash County) and The Wilson Times.
3/11/21: AmRevNC is featured in GrepBeat.
3/10/21: Added Twitter account: @AmRevNC.
3/9/21: AmRevNC receives coverage on The Digital Courier.
3/8/21: "New Website Guides Visitors to American Revolution Sites in N.C." (News Release).
3/5/21: Site launched! Given covid restrictions, only two people attended live in the founder's living room, celebrating by splitting a mini-bottle of cachaça carried from Brazil 14 years earlier.